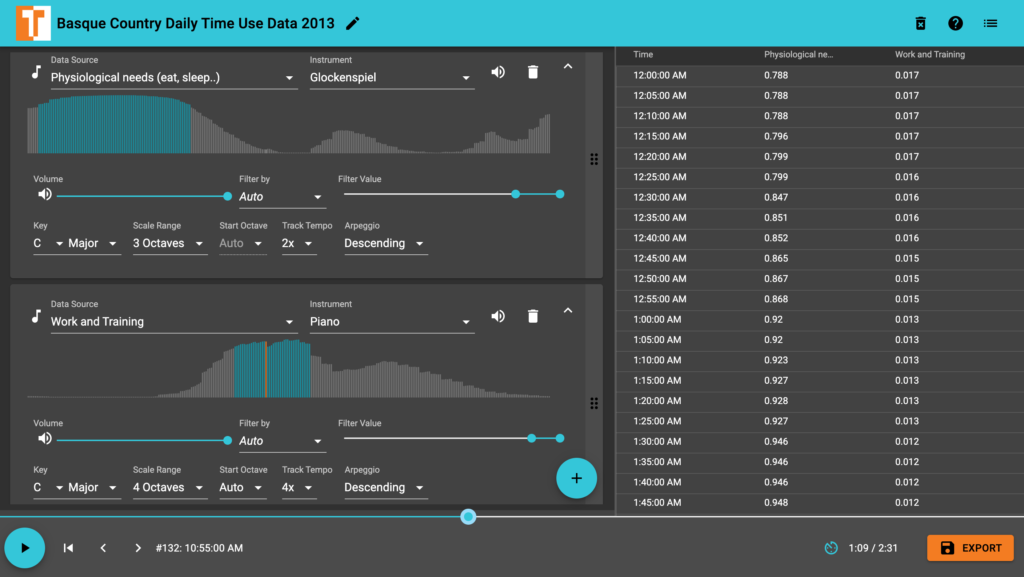 TwoTone is a free and open source web app that provides an easy introduction to data-driven music and data sonification.
Turn data into music.
With TwoTone you can sonify data without writing a single line of code.
TwoTone runs 100% on the web so you don't need to download anything.
---
Data-Driven Music
Get creative. TwoTone is a fun and intuitive way to make your own compositions from datasets without any prior musical or programming knowledge.
How it Works
Upload a data set or choose one of our samples. The algorithm makes an audio track from one column of your data automatically and you can change the instrument, add more columns, and experiment from there until you have made something that interests you. Music you make can be exported for use in creative projects.
Now with MIDI Out
For more experienced music creators, MIDI is a way to send information from TwoTone to electronic instruments. The new feature allows TwoTone to send notes to MIDI derived from the data source. It can use 16 channels of MIDI simultaneously.
---
Data Sonification
Data sonification adds the option of listening to data to amplify understanding, expanding the possibilities for human-computer interaction.
Learn by doing
TwoTone is designed to be fun and easy to use to give an intuitive introduction to sonification techniques, encouraging hands-on play and experimentation, to quickly understand abstract concepts like mapping data to sounds and 'painting' pictures without pictures.
Listen
We use TwoTone as a tool for rapid prototyping of ideas in our production and training. Listen to an example created by Cristian Vogel here and read about how the music was created here.
Developed by
TwoTone is a Sonify project built with support from Google News Initiative.
---
Ready to Sonify your data?