We can work with you to deliver training programs, produce sonifications or interactive audiovisual projects and collaborate on R&D&I to create new software tools, innovation processes and workflows.
Services
From research and development to innovation.
From sonifications to interactive audiovisual experiences.
From one-off master-classes to in-depth programs.
Interested to learn more?
---
R&D&I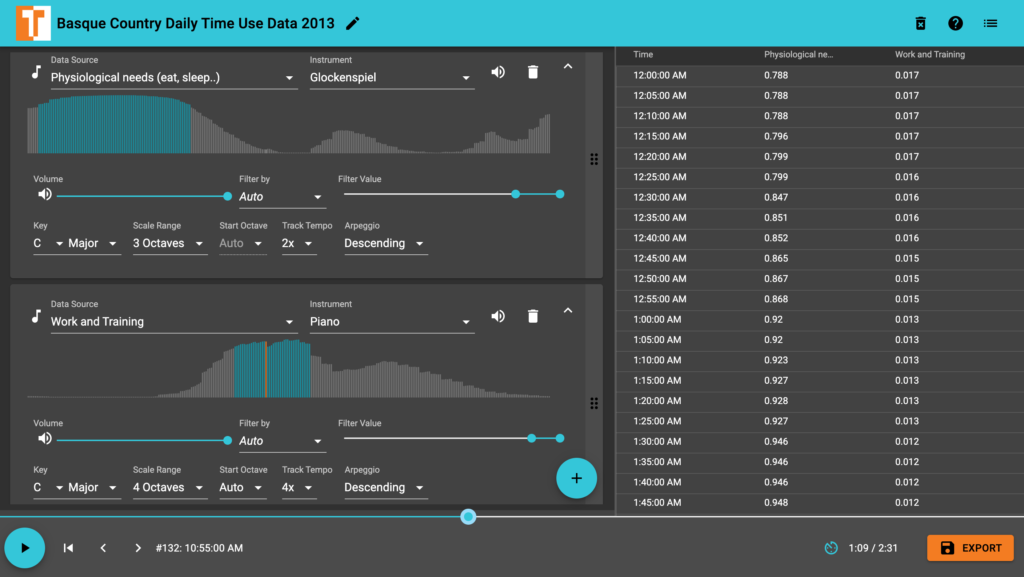 Our research seeks to quickly test the viability of ideas and methods. We apply a rapid-prototype model to technology development. We believe that innovation happens when things that are separate get mixed.
Research
Recent research collaborations have included Envision Research Institute (Wichita, Kansas) for data storytelling and Urban Systems Lab (New York) to explore new approaches for developing more equitable and resilient cities.
Development
QR Date uses data-over-sound to verify the date in (near-) realtime reporting and live streams. TwoTone is an open-source web app allows users to sonify a dataset without writing a single line of code.
Innovation
From connecting hyperlocal newsrooms with the blind and visually impaired community in Wichita, to training scientists to collaborate with musicians in Luxembourg, innovation is at the core of everything we do.
---
Production
From sonifications to interactive audiovisual experiences, we collaborate with world-leading talent to produce compelling work that drives deeper connections to extend impact, reach and engagement.
Sonifications
We create sonifications from your data, collaborating with audio innovators in the composition, mixing and performance of electronic music and sounds to add a new dimension to understanding.
Audiovisual
We create audiovisual interactive experiences, collaborating with artists at the bleeding-edge of 3D animation, motion graphics and code using machine learning, generative art and emerging media.
---
Training
From intensive one-off masterclasses to in-depth training programs, we focus on hands-on 'learning by doing' sprints to unlock, empower and enable creativity in individuals and teams.
Recent Training
Masterclass
In-depth Training Programs
Upcoming Training Program
---
Ready to talk?